Books I read in 2018:
In no particular order:
The Son of Neptune- Rick Riordan
The Mark of Athena-Rick Riordan
The Blood of Olympus- Rick Riordan
The House of Hades- Rick Riordan
Pride- Ibi Zoboi
Foolish Hearts- Emma Mills
The Cruel Prince- Holly Black
A Thousand Perfect Notes- C.G. Drews
P.S. I Like You- Kasie West
The Upside of Unrequited- Becky Albertalli
Lord of Shadows- Cassandra Clare
Girls of Paper and Fire- Natasha Ngan
Snoopy, We Love You- Charles M. Schulz
Overall, I have fallen behind on the Goodreads goal I set for myself which was 24 books for the year I believe…But considering that the last few years have been years where I read five or less this is pretty good. I also started to read a few books this year that I didn't finish (yet). Some of my unfinished books are unfinished just because I got distracted by life or another book and then never went back, others…fear. Genuine fear of what's to come. I have honestly, truly enjoyed every book I've read so far and I am so glad to be making so much progress in my reading life.
*I would just like to add in that there's books I have read which are targeted for young children, preschool age because that's the age-group that I work with and that's a LOT of books that I will not be adding to this list.
Books I started and have yet to finish:
Batman: Nightwalker- Marie Lu
Why is it unfinished?
I started this with hope that I wouldn't hate it…I hoped it'd be a good and enjoyable retelling but honestly…it was just mehhhhhhhhhhhhhhhhhhhh so far. I started this ages ago, and I remember the amount of cringe I felt a lot of the times. I wasn't in love with Bruce or anyone else. I thought it was an okay retelling, NO I DID NOT MAKE IT VERY FAR I KNOW DON'T HATE ME. But still it was just not great, I wasn't in love with the narration either which didn't help. At. All. I think I can deal with things I don't particularly love but if the narration makes me uneasy as well then I just can't keep going. I told myself I'd finish this one and well…it's almost New Year and here we are. I am considering forcing myself to finish to see how I feel about it once I am done though.
2. The Dark Prophecy- Rick Riordan
Why is it unfinished?
BECAUSE I AM A TOTAL FREAKING WUSS AND I DON'T LIKE TO SUFFER. Okay, so I know the spoilers at the end of The Trials of Apollo, and okay basically I read the Hidden Oracle and then I realized it connected to Heroes of Olympus and I hadn't read that so I put TDP on hold while I caught up and finished that whole series. All good and dandy…EXCEPT I saw spoilers left and right for the last book and now I am afraid. Also, I was on a Rick Riordan kick and it was SO. MUCH. DEMIGODS. That I was kind of burned out so I ended up taking a break in between Mark of Athena and House of Hades and then I finished it all. However, I was just afraid of the sadness and death so here we are. Don't worry, I will make sure to read this book because I am OBSESSED with Demigods and all of their wonderful shenanigans so I will finish this series in the upcoming year. #goals
3. Gentleman's Guide to Vice and Virtue- Mackenzi Lee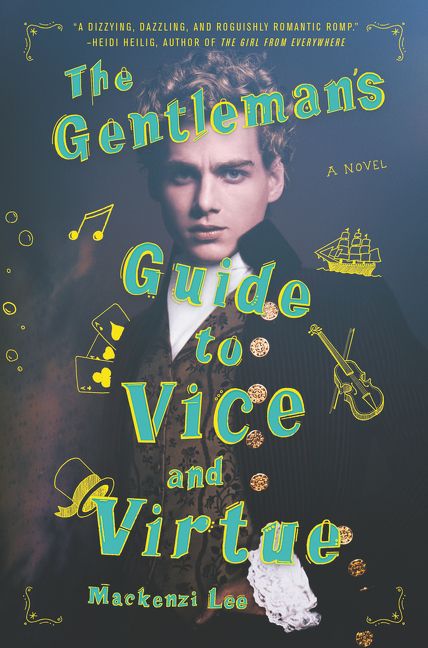 Why is it unfinished?
Because I got distracted. Honestly it's because I started this book and I'd go to work and forget about it, and I had to do so many things for work and for some reason I'd go from being really not interested in the story, not because it wasn't good, but because I wasn't fully in that head space to being super invested until eventually nothing clicked. So I will attempt to finish this because I stopped at a really interesting part and I need to know why everyone loves Monty so much. Yes, he's interesting to me but also… DAMNIT BOY CHILL OUT.
4.The Art of War- Sun Tsu
Why is it unfinished?
Because it's big and big books scare me. Also, mostly because I feel it's one of those books you HAVE to pay attention to at all times of the reading process or else you'll be going what the actual hell? So….eventually?
5. Kirin Rise the Cast of Shadows- Ed Cruz and Ron Langtiw
Why is it unfinished?
Because it intimidates me and also kind of annoys me. Here's the thing, this premise is awesome, and I love the story thus far. A petty thing that scares me is that IT IS PACKED WITH WORDS. (Wow who would expect words in a book???? What??? What is this concept???) but no sometimes I get really scared when I see a lot of words in a book it intimidates me. So I start this book and I keep going because I'm crazy and I'll read a few chapters and stop due to life or sheer intimidation and then it sits there staring at me every day…literally it's RIGHT THERE -à next to my bed. Where it watches me be a bad person who doesn't read.
6. Shadow of the Fox- Julie Kagawa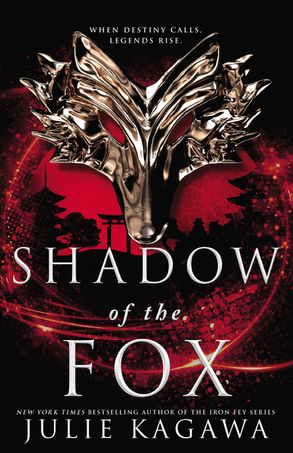 Why is it unfinished?
Because narration bothered me. No, I didn't make it very far and yes I was enjoying it….BUTTTT I am going to blame Owlcrate. I started Shadow of the Fox right after Pride and then of course by then I received my next box which contained Girls of Paper and Fire…annnd well everything went downhill. I was being bothered by the narration and then a book I was more interested in getting to know showed up soooo it's on hold for now. Yes, I want to finish it, yes it seems like a great concept. Yes, I'm actually upset because of how it started because I WANT TO KNOW WHAT IT ALL MEANS. (TOTALLY IMAGINED IT TURNING INTO NINJA ZOMBIES SOOO). So yeah, I kind of have to finish it because I am quite nosey.
Books I want to read in 2019
Okay I'd like to start by saying I want to read all of those books I neglected in 2018…all of those lovely books I started and didn't finish. But I'd also like to add:
Queen of Air and Darkness by Cassandra Clare (which scares me cus it's freaking MASSIVE…plus I know I'll cry. Thanks, Cassie)
The Sword of Summer by Rick Riordan
Hammer of Thor by Rick Riordan
Ship of the Dead by Rick Riordan
One Dark Throne by Kendare Blake
Two Dark Reigns by Kendare Blake
Caraval by Stephanie Garber
Wonderwoman: Warbringer by Leigh Bardugo
Night Circus by Erin Morgenstern
The Kane Chronicles by Rick Riordan
Ink and Bone series by Rachel Caine
Whispers of the Fallen by J.D. Netto
Children of Blood and Bone by Tomi Adeyemi
These are just the books that I have at the very top of my list of books to read for the upcoming year, so far. I will definitely ATTEMPT to read these, doesn't mean it'll happen. I know however, the ones I started this year and never finished are at the top of my list and I will prioritize them. I already know what my first book to read will be (I'm sure you shall all be massively shocked. Totally) I hope you all accomplished more reading goals than I did, and let me know what books you didn't finish this year that you wanted to finish reading.
XOXO Gossip Girl…
Errr I mean, LATER NERDS. Yeah, that's the right one… see you all in the next year J